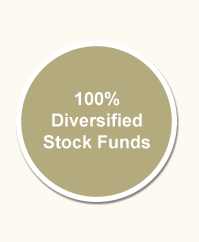 The

Tax-Efficient Growth Strategy

seeks long-term growth by investing in diversified stock funds. Typically it will hold 3-6 domestic stock funds, representing roughly 300-400 unique stock positions. Foreign exposure will usually range between 10-30%.

To achieve a higher level of tax efficiency, the Tax-Efficient Growth Portfolio attempts to hold profitable positions long enough to qualify for long-term capital gains treatment. Less often, it may sell losing positions and move to a substitute sector if an opportunity exists to book a short-term loss with minimum risk of a wash sale. On occasion, the portfolio may still book short-term gains in an attempt to maximize after-tax performance, or if we expect offsetting short-term losses. The portfolio makes some effort to minimize the tax impact of capital gains distributions, but this is not a major focus because Fidelity funds tend to distribute most of their profits in the form of long-term capital gains.