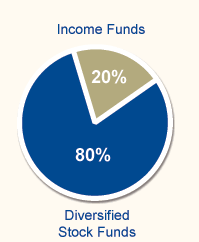 The

Aggressive Growth & Income Strategy

seeks long-term growth in excess of the S&P 500 while maintaining a risk level that is similar or lower. Typically the portfolio will hold two to three domestic stock funds and two to three bond funds with a neutral asset allocation of 80% stocks and 20% bonds. Foreign exposure usually ranges between 5-20%. Funds from alternative asset classes – such as foreign stocks, convertible securities, high-yield bonds, or real estate – may be held if we believe their potential performance rivals that of domestic stock funds.

During bearish market conditions the portfolio may increase its weighting in bond funds, but such defensive measures are not expected to be routine. We believe a stable allocation generates a higher long-term return than trying to boost stock exposure during bullish periods, or reduce it during a bear market.