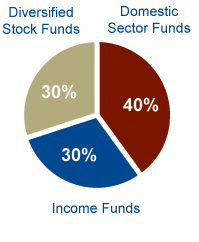 The

Medium-Low Risk Strategy

seeks long-term growth by investing in a combination of sector funds, stock funds, and bond funds (balanced or asset allocation funds may also be held). It aims for a neutral mix of 70% stock and 30% bond. Usually the portfolio will hold six different Fidelity Select funds, and two or three domestic funds that hold stocks, bonds or a blend of stocks and bonds. Foreign exposure will typically range between 0-15%. The portfolio will usually have several hundred unique underlying stock positions, and more than 1,000 unique underlying bond positions. Under certain market conditions, we may include a foreign funds.

The domestic sector portion of the portfolio attempts to invest in industry groups that are in the process of being recognized for their long-term potential. Such sectors are identified through the study of long-term trends, valuation levels and other fundamentals. During bearish market conditions the portfolio may become more defensive by increasing its bond weighting, but money market funds are not normally held.