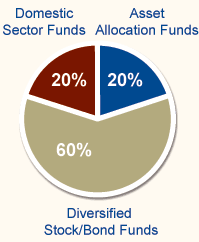 The

Low Risk Strategy

seeks long-term growth by investing in diversified stock and bond funds, asset allocation funds and sector funds with a neutral mix of 55% in stocks and 45% in bonds. Typically, the portfolio will include six Select funds along with two or three domestic funds that hold stocks, bonds or a blend of both. Foreign exposure usually ranges from 0-15%.

The portfolio aims for growth with a low level of risk, while keeping ahead of inflation over the long run. The bond portion of the portfolio may include bond funds, conservative asset allocation funds, real estate income funds or capital preservation funds.

During bearish conditions, the portfolio may become more defensive by increasing its bond weighting, but money market funds are not normally held.