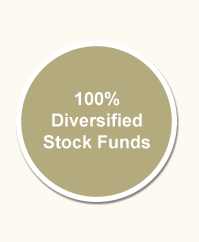 The

Non-Sector High Risk Strategy

seeks long-term growth by investing in diversified stock funds. Typically it will hold 3-6 domestic stock funds, representing roughly 300-400 unique stock positions. Foreign exposure will usually range between 10-30%. Funds from alternative asset classes – such as foreign stocks, high-yield bonds, or real estate – may be held if we believe their potential performance rivals that of domestic stock funds.

The portfolio normally chooses broadly diversified stock funds, with each fund providing a degree of balance through industry group weighting differences, stylebox variation, or
foreign exposure. Other factors considered include risk-adjusted performance, overall
volatility, cash/bond level, expense ratio, and manager history. During bearish market
conditions the portfolio may invest some of its holdings in asset allocation funds that blend stocks and bonds, but such defensive measures are not expected to be routine.