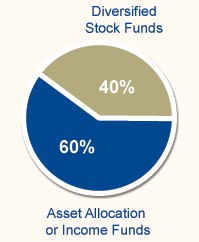 The

Non-Sector Low Risk Strategy

seeks long-term growth by investing in diversified stock funds, asset allocation funds and income funds with a neutral mix of 55% in stocks and 45% in bonds (Asset Allocation funds hold some stocks). Foreign exposure usually ranges from 0-15%.

The portfolio aims for growth with a low level of risk, while keeping ahead of inflation over the long run. We look for funds that are overweighted in industry groups that offer strong long-term potential, while avoiding funds that carry heavy exposure to industries that may carry more risk than usual.