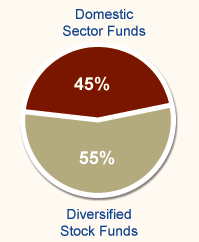 The

Medium Risk Strategy

seeks long-term growth by investing approximately 45% of assets in domestic sector funds (typically Fidelity Select Portfolios), and 55% in diversified stock funds. Usually it will hold six different sector funds and two or three diversified stock funds. The diversified stock fund holdings are normally domestic growth funds from Fidelity's lineup, but if foreign valuations are attractive the portfolio may invest in an international fund -– usually for 5-15% of the total portfolio.

Alternative holdings, such as high-yield bond funds or real estate funds, may be used for a portion of the portfolio if valuations are deemed compelling.

During bearish market conditions the portfolio may become more defensive, but money market funds and investment-grade bond funds are not usually held.