Meet Jack Bowers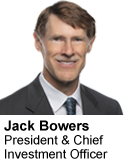 Jack Bowers is the CEO of Independent Fidelity Investors, Inc., which publishes Fidelity Monitor & Insight, one of the top-performing newsletters over the past 30 years (www.hulbertratings.com).
He also serves as chief investment strategist of Weber Asset Management and CEO of Bowers Wealth Management. The two advisory firms have approximately $550 million under management. Bowers holds a bachelors degree in Electrical Engineering from Washington State University.
Bowers continues to serve as editor of Fidelity Monitor & Insight, the newsletter he founded in 1986. Back then, he drew on his personal interest in investing and desktop publishing, and his 11 years of employment at Hewlett-Packard, to launch the monthly publication. "It was tough to get much information on mutual funds in 1986," says Bowers.
"I set out to create a model-based service that would show readers how they could win by staying fully invested in stock funds."
Bowers' newsletter has been credited with outstanding performance by the Wall Street Journal, Money Magazine, U.S. News, The New York Times, USA Today, and Investors Business Daily. He has appeared on the Forbes Newsletter Honor Roll twice.
Jack's long-time interest in electric vehicles led him to put down a deposit on a Tesla Roadster in 2006. Over the last 13 years he has tested the limits of Tesla vehicles by driving 500,000 combined miles in a Roadster, two Model S vehicles, and a Model X which he sometimes uses to tow a 24' RV trailer. He participated in Tesla's IPO and has helped finance the installation of over a dozen level 2 charging stations. Keeping up with Tesla and following Elon Musk's other futuristic ventures has turned into a full-time hobby of sorts, giving him unique insight into the coming wave of technology disruption and its potential to reshape both the global economy and the U.S. stock market.